St. Mary's County Government Awarded Grant of $1 Million Dollars
HUGHESVILLE, Md. (May 2, 2019) — The Southern Maryland Agricultural Development Commission (SMADC), a division of the Tri-County Council (TCC) for Southern Maryland, is pleased to announce that the St. Mary's County Government has been selected as the recipient of the Regional Agriculture Center (RAC) Grant of $1 million dollars for the development of the Regional Agricultural Center in Southern Maryland. As winning recipients of the grant bid, St. Mary's county will be the home and host of the RAC, which will be open for use to all farmers in the Southern Maryland Region.
The formal announcement was made at the SMADC Board Meeting on May 2, 2019, following an Executive Session and a vote to accept the RAC Review Committee's recommendation to award the Grant to St. Mary's County. The SMADC approved selection now goes to the TCC Executive Board for final approval at their meeting on May 16th.
Two applications were received by the Grant Application deadline (March 21, 2019), one from the St. Mary's County Government and one from Hughesville Properties, LLC, of Charles County. The bids were reviewed by SMADC's appointed Review Committee, which unanimously voted to accept the St. Mary's County Government bid (with minor adjustments) to be the host and home for the RAC Grant project. The Committee's consensus was that the St. Mary's county bid was by far the stronger bid, and provided much more detail in line with SMADC's vision for the RAC.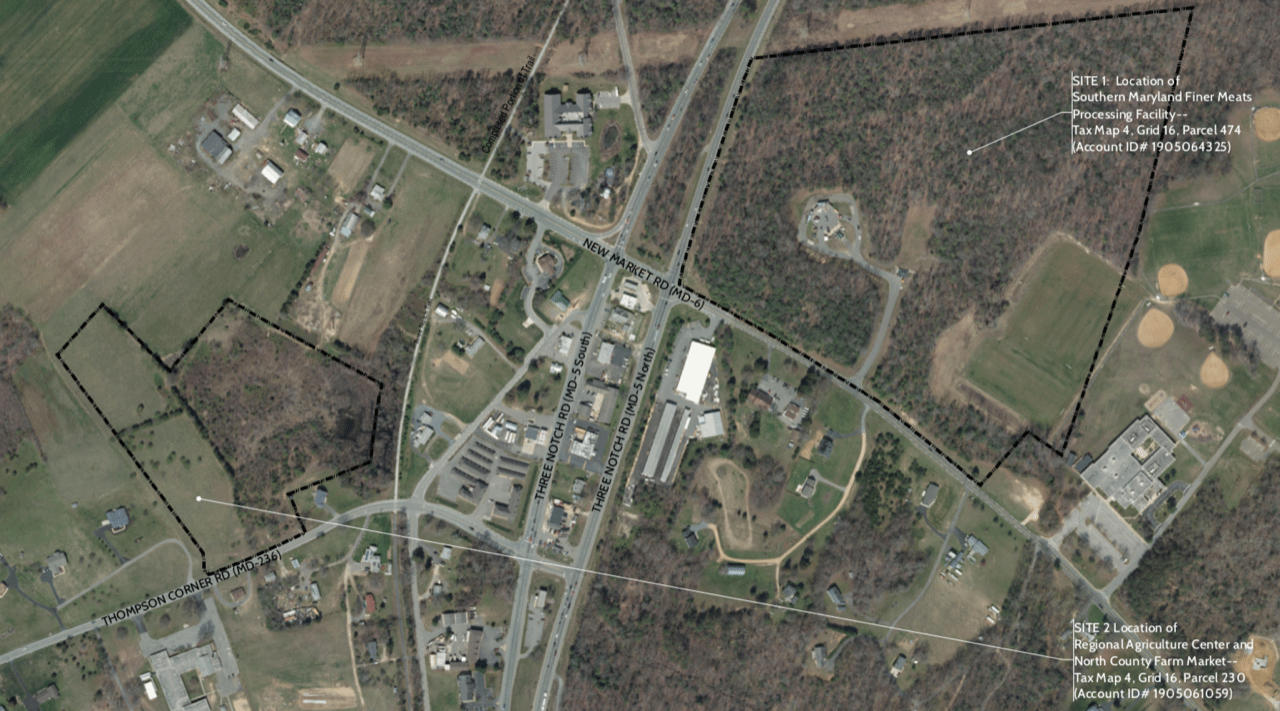 The RAC complex will be located in St. Mary's County in the town of Charlotte Hall, close to an existing transfer station site. The facility will be a public/private partnership providing a set of complementary services with the capability of adding value and profitability to products from Southern Maryland farmers. The 7,500 square foot building will be designed and constructed to accommodate the forecasted usages of the RAC, including meat cut and wrap services, meat locker and refrigerated storage, value added and finer meats processing, a retail store, a commercial kitchen for making value-added goods, and space for educational and apprenticeship programs.
"The RAC will encourage small business agricultural development, strengthen the region's farm community, create jobs, and keep money in the local neighborhood", said Shelby Watson-Hampton, SMADC Director. "We are very excited to see it come to fruition after years of hard work by many individuals, and look forward to celebrating its future success for the farmers in the community."
The SMADC Board congratulates St. Mary's County on their thorough application, and looks forward to working with them on creating a Regional Agricultural Center that will benefit all of Southern Maryland.