Coming Soon: Regional Agriculture Center (RAC)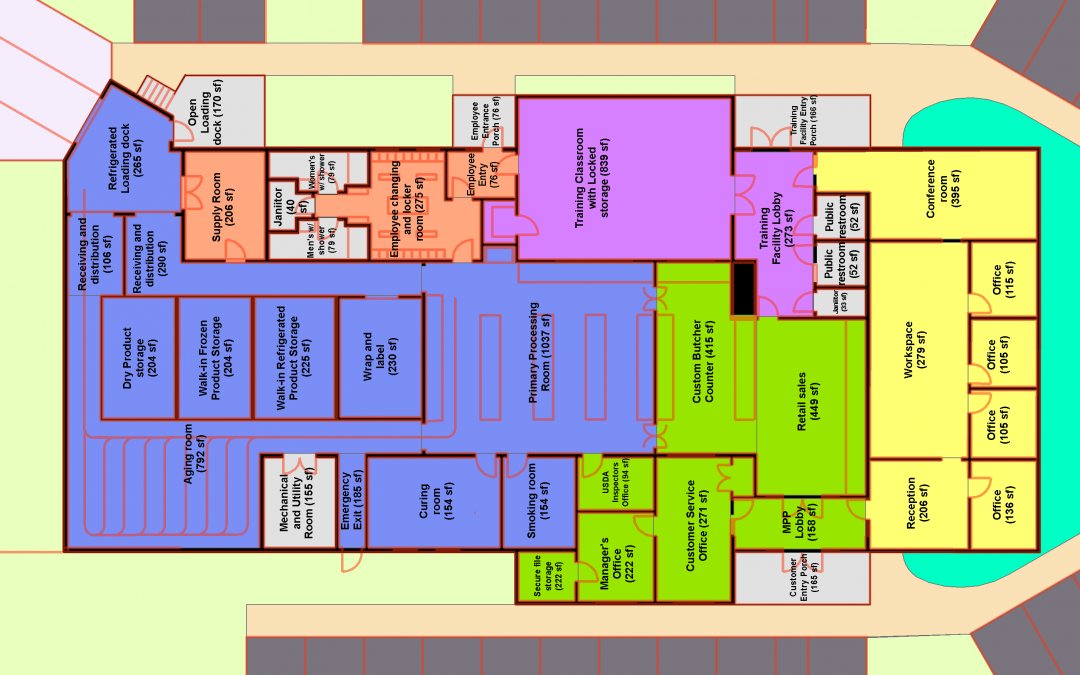 St. Mary's County was awarded a $1 million grant from the Southern Maryland Agricultural Development Commission to develop a regional agriculture center. The RAC complex will be located in St. Mary's County in the town of Charlotte Hall, close to an existing transfer station site. The facility will be a public/private partnership providing a set of complementary services with the capability of adding value and profitability to products from Southern Maryland farmers.
News & Announcements
Town Hall Meeting: Wed. June 19
A Town Hall meeting to discuss updates on the Westham Butcher Shop (the soon to be completed Amish-operated slaughter facility), the proposed Regional Agricultural Center (RAC) and the Southern Maryland Meats program will take place at on Wednesday, June 19, 2019 from 6:30 p.m. to 8 p.m., at the SMECO Auditorium located at 15035 Burnt Store Road in Hughesville, Maryland.
Stakeholder Meetings
Following the Town Hall Meeting, an additional set of separate evening discussion groups will also be held to solicit input on stakeholder needs for each of the specialty areas, on June 24 through June 27, from 5 p.m. to 8 p.m., at the SMADC office at 15045 Burnt Store Road. Email info@smadc.com to sign join committees for the following areas:
Mon., June 24: Meat Locker and Cold Storage (for meat, seafood and produce)
Tue., June 25: Commercial Kitchen and Instructional Kitchen
Wed., June 26: Butcher Shop and Charcuterie
Thu., June 27: Retail Outlet
"The RAC will encourage small business agricultural development, strengthen the region's farm community, create jobs, and keep money in the local neighborhood. We are very excited to see it come to fruition after years of hard work by many individuals, and look forward to celebrating its future success for the farmers in the community."
About the Southern Maryland Regional Agriculture Center (RAC) and Meat Processing Facility
Current Status as of September 2017
Feedback from public forums and surveys over the past two years, particularly during FY'15, identified the key multiple infrastructure components based on the needs, as expressed, of the regional farming community including: meat processing, food innovation center, food distribution, farm incubation, aquaculture processing, market and warehouse.
In March of 2016 it was determined that the immediate successful creation of a meat processing facility is a priority. From April to November of 2016, a Request for Proposal (RFP) was developed to allow for a public-private partnership to manage and operate the meat processing facility for the farmers of the region.
The first RFP was issued in November 2016. As no bids were received, a subcommittee was formed to review the RFP to address issues that may have inhibited potential bidders and consider options for enhancements and incentives to increase successful bid responses. The second RFP was released in September 2017.
RESOURCES
WEB-BASED RESOURCES ON USDA CERTIFIED/INSPECTED MEAT PACKING PLANTS
LIST OF USDA PROCESSING FACILITIES IN THE MID-ATLANTIC REGION (Maryland, Virginia, Delaware and Pennsylvania.) Facilities listed are within 150 miles of Hughesville, MD. This list was compiled by SOUTHERN MARYLAND MEATS (a program of SMADC).
RESOURCES FOR POSSIBLE ASSISTANCE WITH RFP'S:
Historical Timeline
2/8/18: Proposal Due
1/29/18: Amendment #3 released. Includes new questions.
11/27/17: Amendment #2 released. Includes updated resources.
11/8/17: Amendment #1 released. Includes summary of pre-preposal conference, question and answer, clarifications and revisions for the RFP, and sign-in sheet.
10/23/17: Pre-Proposal Conference, 1:00 pm, 15035 Burnt Store Road, Hughesville, MD 20637
10/16/17: Deadline for Pre-Proposal Questions (questions sent via email to Procurement Officer at meatrfp@smadc.com.
9/26/17: RFP Issued, VIEW THE RFP
1/27/17: RFP Proposal Due Date
1/20/17: Deadline for RFP Questions from Bidders
12/27/16: Amendment #1 released. Includes the following from the Pre-proposal Conference of
12/13/16: Summary of conference, questions and answers, clarifications and revisions for the RFP, sign-in sheets and amendment acknowledgement form.
12/13/16: Pre-Bidders RFP Meeting
12/6/16: Pre-Proposal Conference RFP Questions Due
11/17/16: RFP Issued
4/15/16: SMADC expects to release an RFP for a public-private partnership to develop, manage and operate the meat processing facility to service the region's multi-cultural community in accordance with USDA standards in the Southern Maryland region (Anne Arundel, Calvert, Charles, Prince George's, St. Mary's counties).
4/11/16: SMADC Public Interest Meeting on meat processing facility. VIEW THE MINUTES.
3/23/16: There will be an important information session on April 11, 2016, outlining the Request for Proposal (RFP) and Request for Qualifications (RFQ) process for potential property owners, developers and operators who are planning to submit a bid.
10/20/15: SMADC continues plans for the proposed Southern Maryland Ag Business Park and Food Innovation Center. SMADC is currently drafting a Request for Proposals (RFP) which will be published as soon as it is approved.
7/13/2015: SMADC is in the planning stages of the proposed Southern Maryland Ag Business Park and Food Innovation Center. Thank you to all that submitted Expressions of Interest (EOI) for the site. We will begin the review process in July. We will also request for a second brief round of public submissions for the site, and then issue a public request for proposals for an entity to hold title.
5/27/2015. Public meetings are now being scheduled in each of the Southern Maryland counties to present information about the project and solicit community input.
5/22/2015. The process of identifying and procuring a parcel of land for the proposed Center has now begun. "Expressions of Interest" (EOIs) from landowners are now being accepted. The deadline to submit an EOI is July 10, 2015. The EOI link is no longer active.
This is a Request for Expressions of Interest and Information (EOI) from landowners or their representatives for the lease or purchase of a site/sites suitable to develop a regional Agri-Business and Center for Food Innovation, located within the Southern Maryland region (Anne Arundel, Calvert, Charles, Prince George's, St. Mary's counties). It is not a solicitation or request for formal proposals that will result in a contractual relationship or commit the Tri-County Council for Southern Maryland to enter into a further agreement with any respondent. This should be considered a request for interest and information only.
5/14/2015. SB 909 has been signed by Governor Hogan, which means we are now officially authorized to use our funding for the real estate acquisition. We are still awaiting approval before issuing the "Expression of Interest" (EOI) request to the public.
5/8/2015. SMADC has created an on-line survey designed to collect input from stakeholders and the community about the proposed Ag and Food Center, specifically to find which components of the facility are most requested and to prioritize the order in which they are developed. This survey is no longer active.
UPDATE4/2015. The Southern Maryland Delegation INTRODUCED A BILL (SENATE BILL 909) to allow SMADC, through the Tri-County Council, to use funds to purchase, lease or lease-to-buy real estate for this purpose. Once the bill is signed by the Governor, it will become law. We are awaiting one more level of approval before we issue a request for an "Expression of Interest" (EOI) to the public. Anyone with suitable property within the five-county area is welcome to apply. We hope to have the EOI Request available as soon as possible, and ideally have a site selected later this summer. The EOI Request will be posted in public venues such as newspapers, newsletters, the SMADC website and other venues.