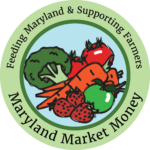 Maryland Market Money

Maryland Market Money (MMM) is a statewide food access program that feeds Marylanders and supports farmers. MMM removes economic barriers for Marylanders experiencing food insecurity, providing a dollar-for-dollar match for purchases made using federal nutrition benefits at participating Maryland farmers markets, farm stands, and CSAs while providing technical assistance, training, marketing, and additional services to stakeholders.
MMM is a multi-tasking program that helps shoppers, farmers, and markets equally. It helps shoppers by lowering economic barriers to healthy foods; farmers by improving their economic viability; and markets by increasing their customer base.
Maryland Market Money is run jointly by the Southern Maryland Agricultural Development Commission (SMADC), a division of the Tri-County Council for Southern Maryland, and the Maryland Agricultural & the Maryland Department of Agriculture (MDA) with support from MARBIDCO and the FFARMD Foundation.
Visit www.marylandmarketmoney.org for more information.
I have more questions, who should I ask?
Please reach out to info@marylandmarketmoney.org if you have questions or want to get involved.