The 3rd Annual Buy Local Challenge (BLC) Celebration was held on Monday, July 29th at Spider Hall Farm in Prince Frederick. Despite the heat, we had an outstanding turnout that featured over 45 local farms, artisans, and businesses from Southern Maryland and around the state. The Celebration is a 'book end' event for the statewide Buy Local Challenge Week, which takes place annually during the last full week of July. Jointly promoted by SMADC and Maryland Department of Agriculture, the BLC encourages consumers around the state to purchase Maryland agricultural products during Buy Local Week.
Highlights included live music featuring John Luskey and Ryan Forrester, local oysters shucked by ShoreThing Shellfish, carriage rides from the beautiful Suttler Post Farm Clydesdales, and pony rides by Mary's Go Round Petting Zoo.
Here's some quick stats and facts from the event: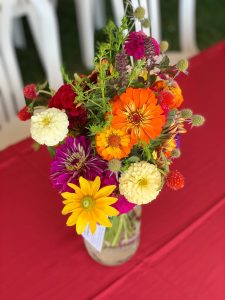 1,700 Stems. Used in the arrangements placed at tables under the tent, all from local cut flowers farms.
550 Attendees. From all across the Southern Maryland region and beyond!
10 Seconds. How long you had to eat Mrs. Moo's ice cream before it started to melt.
Seven months. It takes about seven months and several meetings to pull together vendors, food trucks, live music, and entertainment for the annual Celebration.
Three hours?! On a Monday? Why? This is the most common question we hear about the Celebration event and we do this for a few reasons!
One – Our farmers and vendors likely sell at local farmers markets on the weekend, so they wouldn't be able to attend an event held then.
Two – Everyone's summers schedules are so jam packed with events, that most people are booked on weekends, but a summer weeknight where it's light until almost 9, is likely to be free!
Three – It's the perfect spot to come after work, relax with the family, and grab dinner so you don't have to cook!
The 2019 Buy Local Challenge Celebration event was proudly sponsored in part by MARBIDCO, Calvert County Economic Development, Maryland Department of Agriculture, Colonial Farm Credit, Rural Maryland Council, Maryland Agricultural Education Foundation, Maryland Farm Bureau, and Grow and Fortify.
A BIG thank you to Spider Hall Farm for hosting, to all of the vendors that participated, and everyone who attended the event!
We look forward to hosting next year's Celebration event at Serenity Farm in Benedict (Charles County). Stay tuned and check out the Maryland Buy Local Challenge website in the Spring for more details as we release them!
Save the Date for the 4th Annual BLC Celebration: Monday, July 27th, 2020