Tomorrow's Harvest >> Janie Vogt
Janie Vogt: Cashing in on Maryland's vice du jour
Fourth generation on PG County farm turns tobacco lands into vineyard
Story by Whitney Pipkin, Photos by Conni Leigh James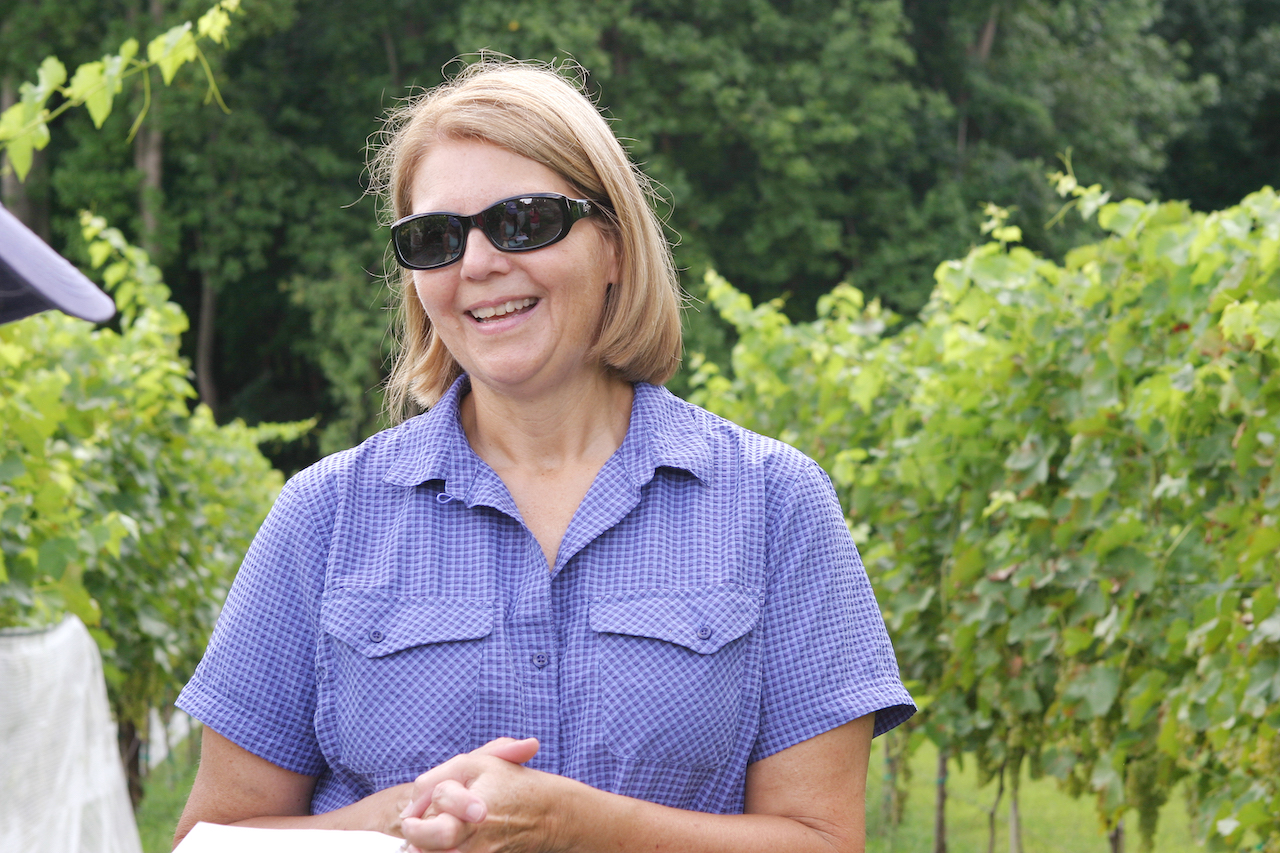 It's been two generations since Janie Vogt's front yard in Brandywine, Md., has produced anything but grass, but it's always been a farm to her.
She remembers when her grandfather, Oscar Townshend, grew tobacco on this property, which measured 270 acres before parts of it were sold, and her grandmother grew a quarter-acre garden and Concord grapes for jelly in the back. Though the tobacco and its industry disappeared from this part of Prince George's County in the late '60s, the grapes are still there.
Now, they're in the front yard, too.
"About four years ago, we said, 'Let's start doing grapes and wine,'" Vogt, 54, says of a conversation with her husband Mark, who plans to retire from his engineering job in a couple years. "We like to stay busy."
It has taken that long to bring the idea to fruition, partly because the vines take up to five years to reach full fruit production. It also took a while to settle on the pseudonymous name their first bottle will bear this spring: Janemark Winery and Vineyard (which also shares initials, JWV, with Mark's father).
Though Vogt grew up on this farm in the house she eventually purchased from her parents, she has worked as a legal secretary with a large yard —rather than a farmer — for the last 28 years. The Vogts and their two sons, ages 23 and 25, lived in California's Napa Valley before returning to the family property in the early 90s to see it in new light.
"We saw the (wine) industry grow incredibly out there — and now we're seeing it here," Vogt said of the state's nascent crop of winemakers. "Every time I get on the Internet, there's a new winery in Maryland. I can't even keep up."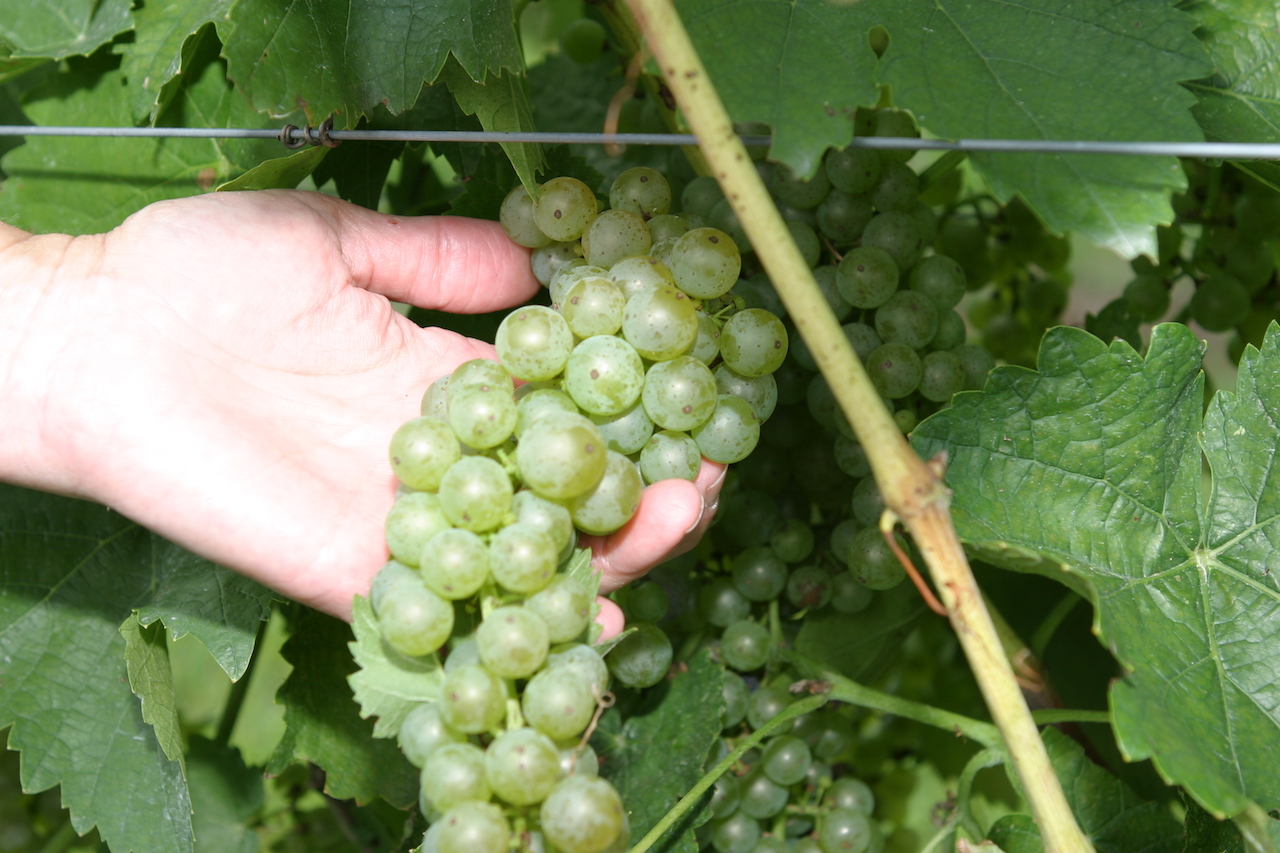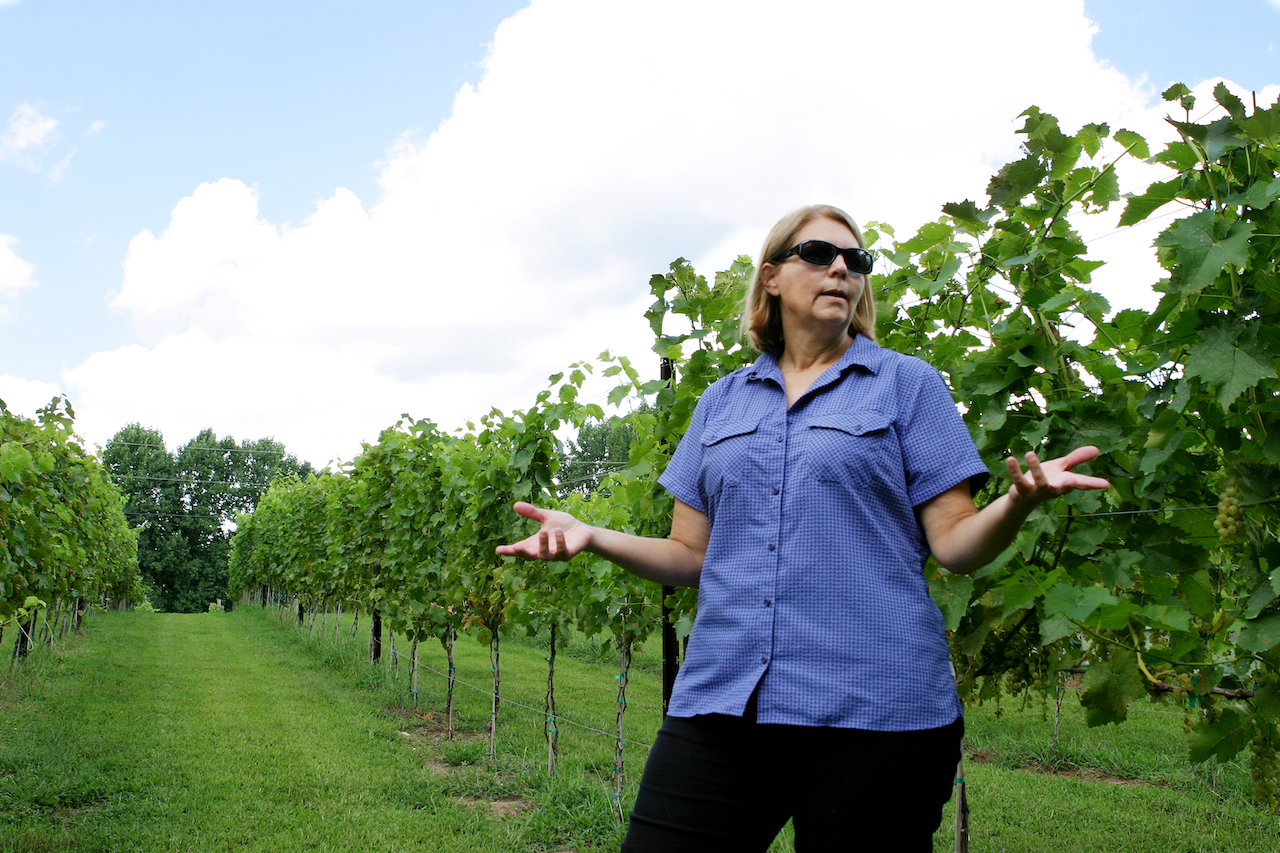 Vogt lists several of her neighbors who've jumped on the grape-growing bandwagon in the past five years. The trend, she says, has more to do with sweeping changes to Southern Maryland's agricultural landscape — the loss of tobacco and the need for crops that can be marketed directly — than with the "happy coincidence" that the town's name is Brandywine. The first farm in Prince George's County to devote its acreage to growing grapes, Romano Vineyard and Winery, is located on the same street as Vogt.
Though she knows the Romanos well, Vogt had plenty of questions in her third year growing that she'd she hesitated to ask her winemaking neighbors who are busy with jobs beyond their vineyards (and might tire of training their future competition).
"It was so nice to be able to call Steve," Vogt says of her mentor through the Maryland FarmLINK Mentor Match Program, wine grape grower Steve Purvins,"I couldn't keep asking the Romanos every single question."
Purvins grows two of five varieties Vogt has in the ground — Vidal Blanc and Chambourcin — for the Port of Leonardtown Cooperative Winery and was able to give advice specific to those grapes. Though Vogt has been around agriculture all her life, growing grapes comes with a steep learning curve, not to mention then turning that harvest into potable wine.
Though Purvins doesn't handle the winemaking process, which is completed by his cooperative, he was available for calls and emails if questions arose in the field. And they did.
'Hard work'
If Vogt ever thought growing wine grapes was as easy as growing the Concords that, with little effort, have provided jelly for years, she doesn't any longer. Her young wine varietals, including Albariño, Barbera and Petit Manseng, have required regular hedging, protection from pests (namely, deer) and constant breeze to combat Maryland's humidity and the mildew that often accompanies it.
"What really goes into making wine is a lot of hard work."
"What really goes into making wine is a lot of hard work," says Vogt, who has learned that finicky wine grapes won't prosper under a plant-it-and-forget-it approach like their Concord cousins.
"Out here," she says, standing in her front yard vineyard, "if you do that, you won't have a grape left."
Following the vines on their gentle slope toward the south side of the lot, it's clear that Vogt has reached a new level of familiarity with the contours of her family's land.
In this low spot, she has planted Vidal Blanc, which blooms later than other white varieties like Chardonnay and is less susceptible to frost. The grapes here are, however, quite susceptible to hungry deer from the nearby woods, who seem to wait until they are just ripe for harvest, Vogt says.
Netting helps deter them later in the season, and a gentle breeze from the west helps ward off the mildew that comes with muggy Maryland summers.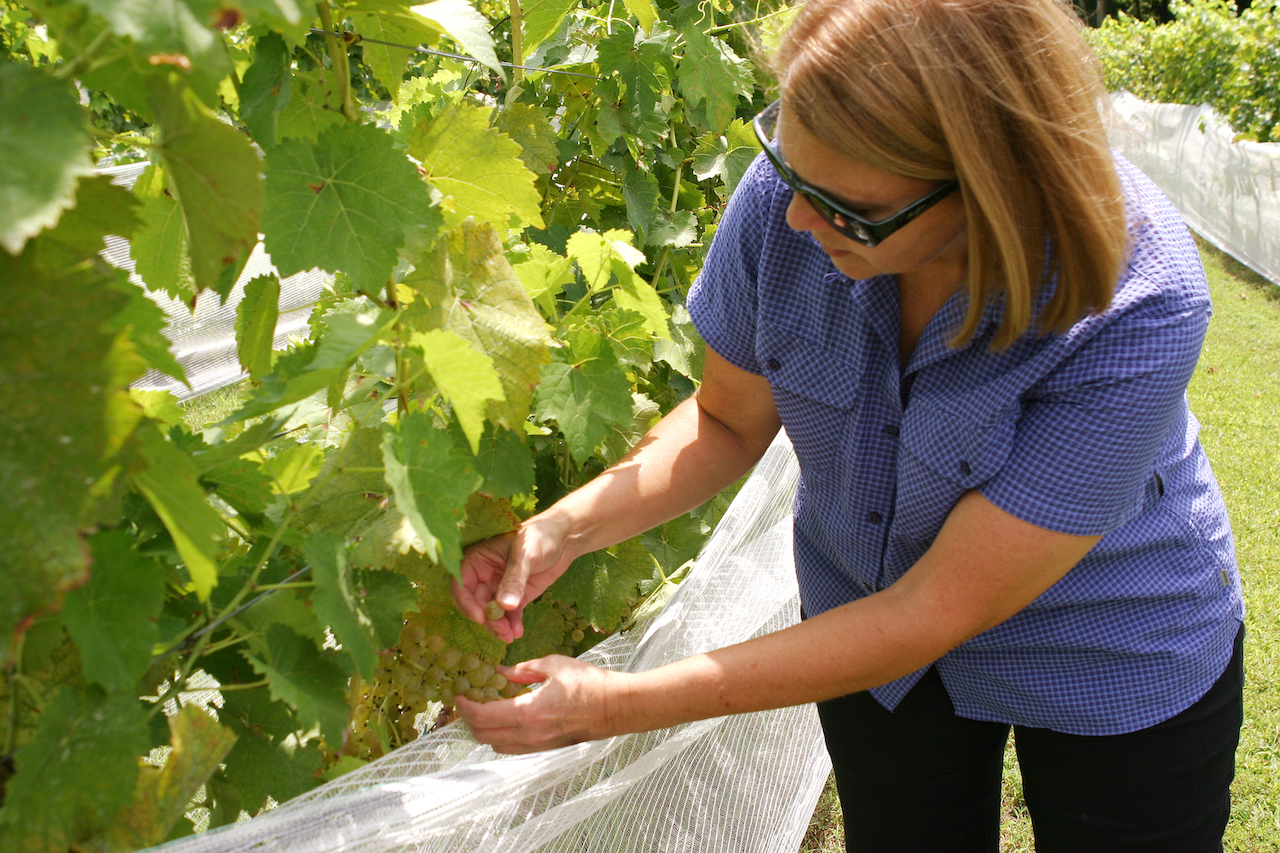 Vogt says that breeze was "like a train blowing through" when they first planted their vines here, thanks to neighbors who had recently removed trees for timber. But the gusts have waned as brush has grown, earning a spot on Vogt's must-trim list.
There's plenty of trimming to be done on the acre of vines under cultivation at this property, and another acre planted on a leased property nearby. Vogt handpicked the second property for growing grapes after learning what to look for at her first. Much to the surprise of the farmer who had grown hay on that field for years, Vogt was thrilled to hear that the soils there are dry and the wind — strong.
"I said, 'Great! Grapes love dry and windy,'" says Vogt, who adds that she couldn't be happier with the second property.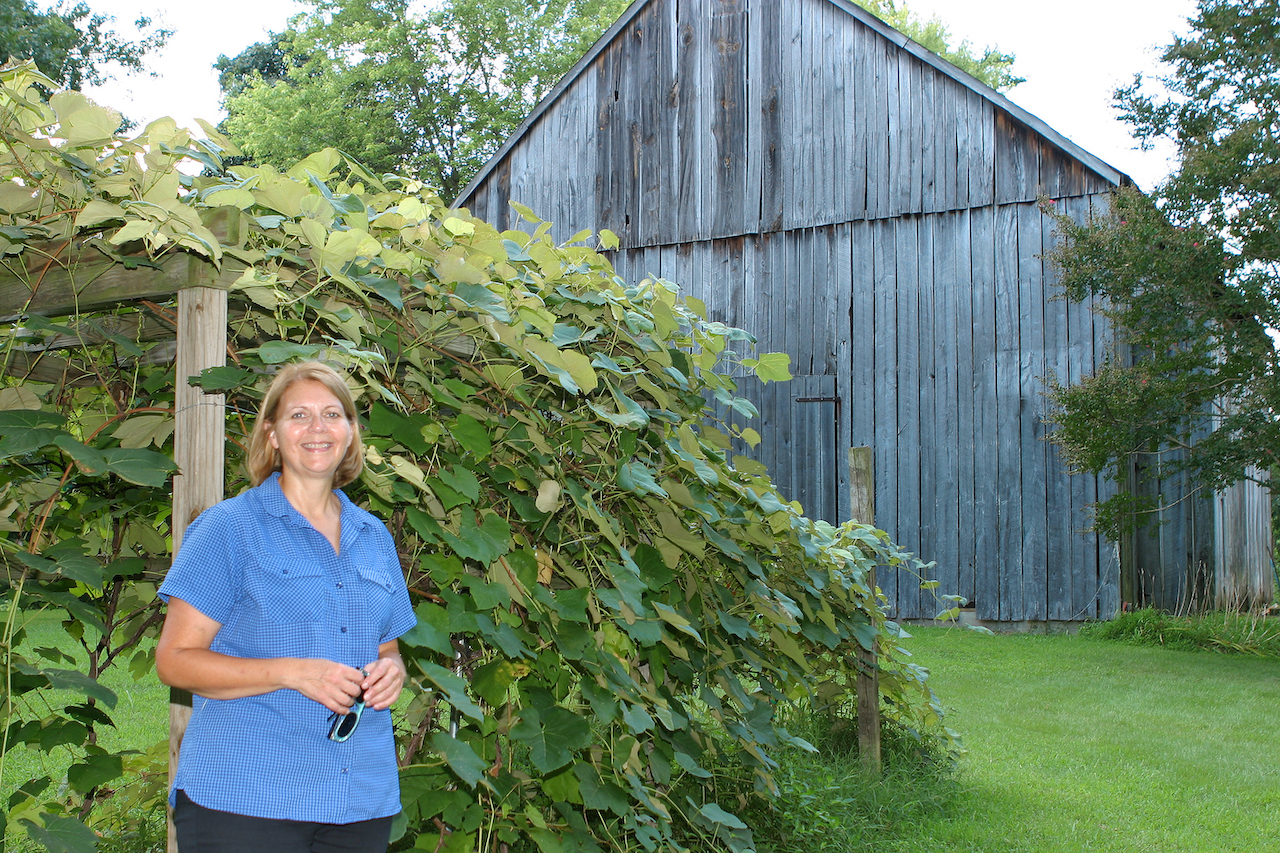 More from Tomorrow's Harvest: New Farmer Stories
Follow us on Instagram @southern_maryland_ag[instagram-feed imagepadding=12]