Tomorrow's Harvest >> Conner Self
Conner Self: Ditching the desk for an outdoor day job
Conner Self balances size/scale to make this market farm profitable
Story by Conni Leigh James and Priscilla Wentworth; photos by Conni Leigh James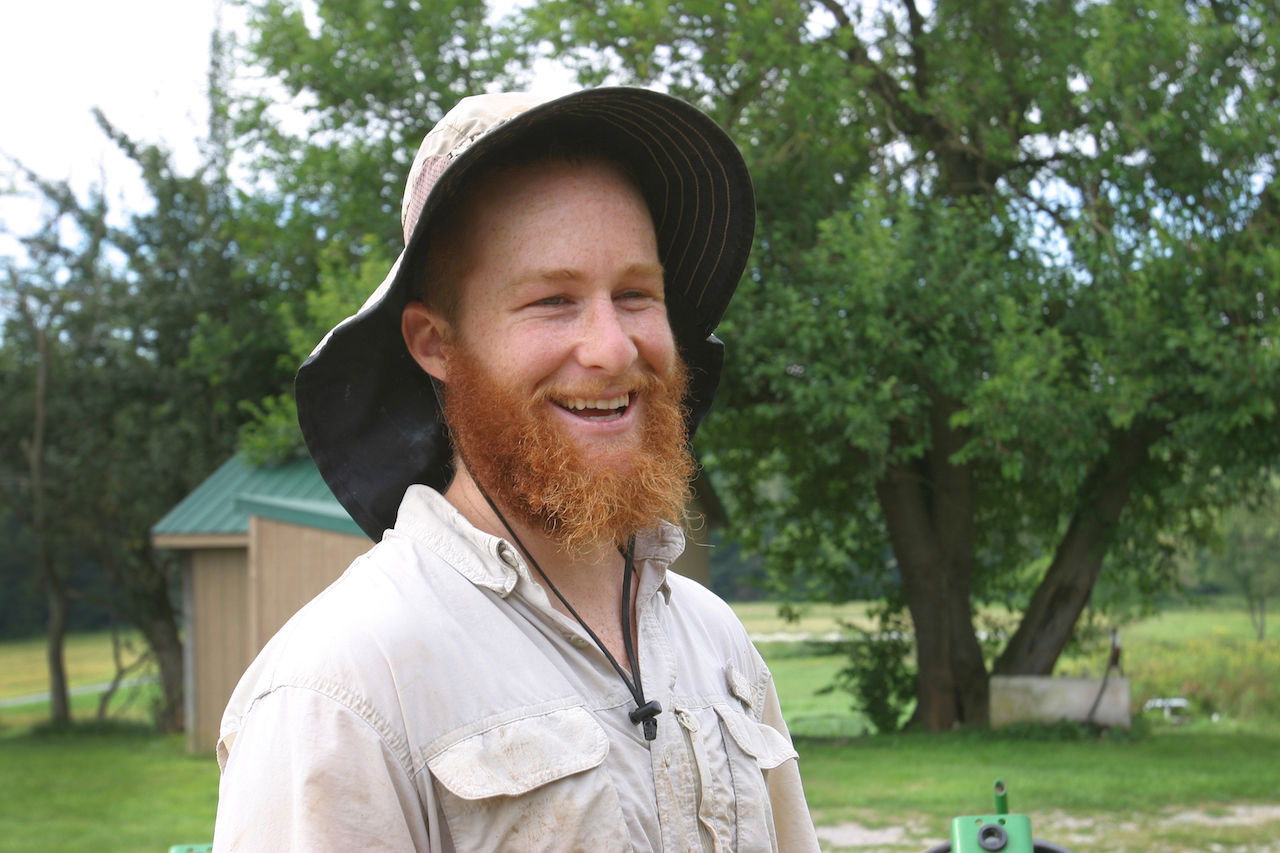 At age 21, Conner Self left the University of San Diego with a degree in International Studies and the clear knowledge that he preferred digging potatoes to desk work, flower bulbs to fluorescent bulbs, and the East Coast's cycles of seasons to California's unchanging weather. So he returned to Western Maryland and took a job managing farm production for The Common Market Co-Op in Frederick, Maryland.
"I missed the seasons when I was in San Diego for school. Maybe I don't always think that in the middle of a three-foot snow or in the extreme heat, but in general I missed the seasons," said Self with a resigned grin, speaking recently about his decision to go back to farming. Before college, Self had worked summers on a farm in the foothills of South Mountain in Boonsboro, and after college he approached the farm's owner about working there again.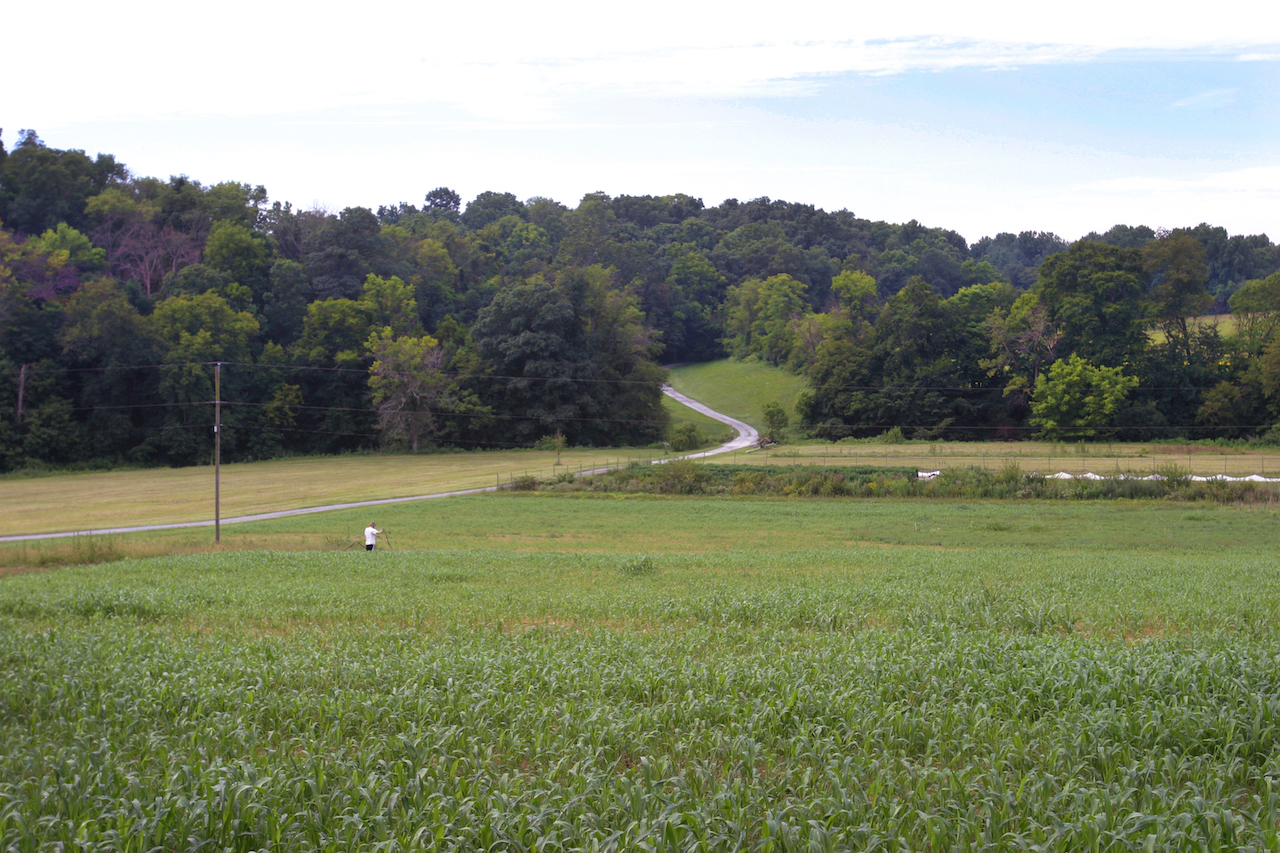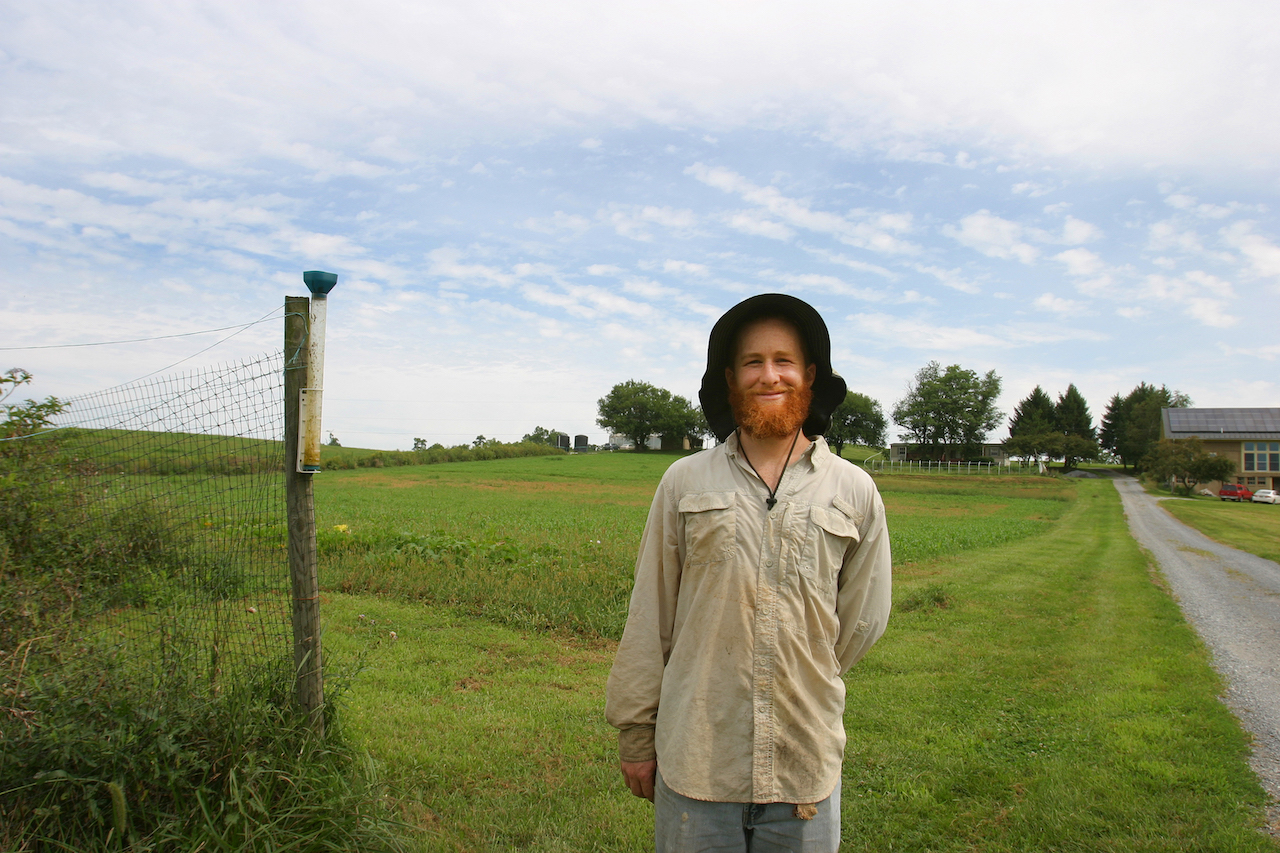 As it happened, the produce manager of The Common Market was negotiating with the farm owner to lease a few acres of land to grow crops exclusively for the consumer-owned market. "It all worked out well," said Self, who ended up as the full-time farm manager for the co-op's portion of the land.
The market leases 10 acres of land but not all is in production yet. "Last year we grew on about seven-tenths of an acre. This year we are growing on one acre," said Self, who does much of the work himself and considers scale to be a major challenge on a farm like this.
"Since I'm the only one here, it's hard to figure out what the right scale is for one person. It's tricky because if you plant too much and you can't weed it all, it spirals out of control pretty quick and then you end up with less product, so a lot of the really small farms say that less is more. So getting smaller actually helps them produce more money per acre. I have to constantly figure that out."
Day-to-day challenges
One of the first challenges for Self was negotiating the lease, since relevant examples were scarce. "It was really hard for us to figure out a price for a small-scale farm. I could only find the price for large acreage," said Self.
The marketing side of farming was less of an issue since everything he grows is either sold through the co-op or served in the market cafe'. "They take a lot of our seconds," he said, meaning that chefs use items with superficial damage while preparing meals and sell the "pretty" produce directly to consumers.
When it comes to the physical work on the farm, Self does most by hand. "The only power equipment I use is a small John Deere with a rototiller attachment. I deal with a lot of weeds and wish I had a cultivator," Self said, again weighing the expense a larger farm entails with the benefits of scaling up production.
The plot now in production is situated on the south slope of a gentle hill, and the tour of the farm begins at the top. There is a large greenhouse, empty now in August. There are also tattered remains of a hoop house that fell victim to a January snowstorm.
A nearby building houses the washing and packing station, and a roomy, walk-in cooler.
Also situated near the top of the hill are two 5,000-gallon cisterns. Water from a creek at the foot of the hill is pumped uphill to the cisterns, and then gravity feeds it back down to the fields via a drip irrigation system.
The soil on the farm is a silt loam, richer at the bottom of the hill than elsewhere, Self explains as he walks downhill past plots of winter squash, tomatoes and cucumbers. He points out old (donated) pool covers in several fields that have been re-purposed for weed control.
Because of the relationship between the farm and the co-op market, which sources from as many local farms as possible in addition to growing its own produce here, the process of choosing what to plant is different from that at most farms, and much easier for Self. "In some ways we have a huge advantage to know the need and fill in when other farmers cannot," Self explains. "The produce manager meets [with Self and the other farmers] in the early part of the year to help determine who grows what, and how we can fill in the gaps."
"I should have reached out more to mentors."
Self has worked with various mentors, and found the Mentor Match program while looking on Maryland FarmLINK's website. "I didn't have a formal education in farming so I wanted to connect with some local farmers. I was matched with the Barnetts, Mary Katherine and Andrew, at Open Book Farm in Middletown, Maryland. They sell to The Common Market as well. It was a really good connection."
"I worked on her farm a couple of days. I helped process chickens one day, and another time I helped to take down a hoop house," said Self. In addition, they discussed crop rotation and how they manage winter production and weed management. "I was really interested in how their business was structured because they are very diversified. One thing I wanted to understand more with them that I didn't get was the nitty-gritty financial details and spreadsheet management."
If he has a regret, Self says he should have reached out more to his mentors. "I'm a self-learner so I tried to figure things out on my own." He advises new farmers to not be afraid to ask questions, even dumb questions. "I'm doing that more with Rick Hood now that I am in the BFTP [Beginning Farmer Training Program offered through Future Harvest]. I was thinking about doing a late potato crop and he was helpful in letting me know the planting window/dates. Being in close proximity is huge to understanding each other's soil, rainfall, seasons and insect pressure."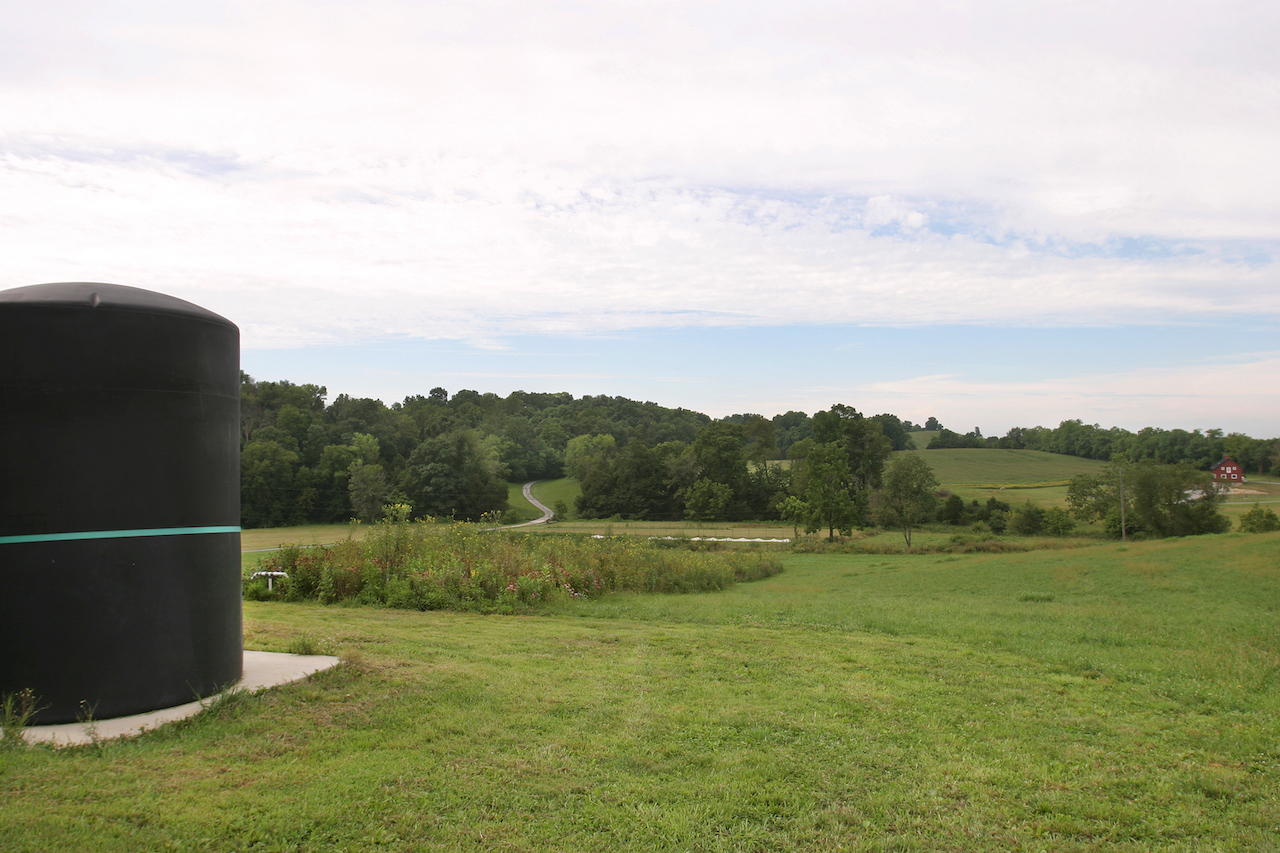 In certain ways, the farm serves as a model for other farmers in the co-op. Because the co-op sells only 100% Certified Organic products, the farm must be fully certified. Going through the process of certification (and remaining certified year after year) means that the co-op can help its other farm suppliers navigate the process as well. "Another one of their goals when they wanted to start this project was to help other local farmers seek organic certification because there are a lot of small farmers that don't have the certification so they can't sell to our produce department. And it really hasn't been that hard."
The biggest thing Self has had to learn in the past year or two is management and decision making. "But I don't really know how that's taught other than experience. I resort to books and look things up online and learn a lot from podcasts."
His education is on-going. "I still think I have a lot to learn and consider myself a new farmer. I was listening to a farmer on the Farmer-to-Farmer podcast the other day who was grossing $350,000 on an acre and a half. That would be great but I don't think it's happening anytime soon," Self said with a laugh.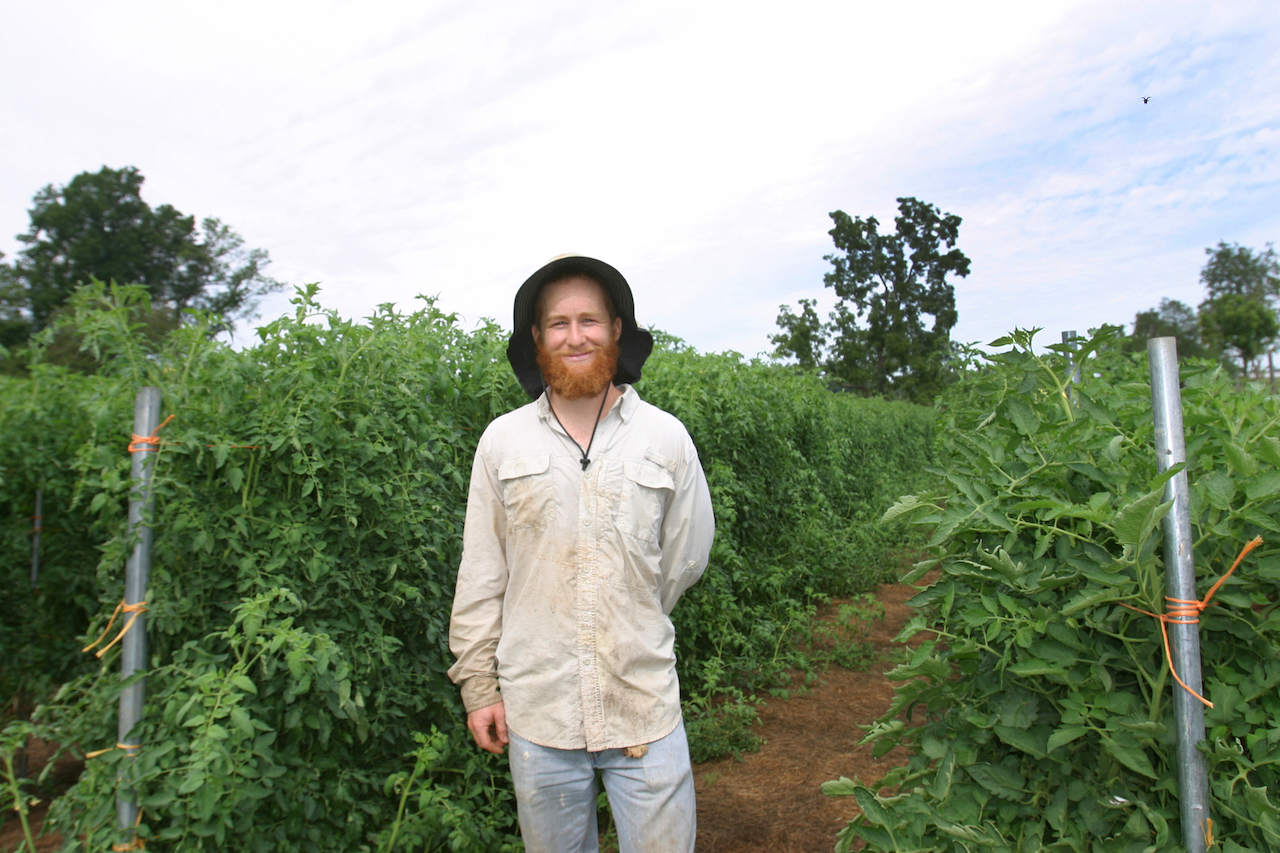 More from Tomorrow's Harvest: New Farmer Stories
Follow us on Instagram @southern_maryland_ag[instagram-feed imagepadding=12]