2019 Hops Farm Tour + Field Day
July 17, 2019 @ 8:00 am

-

6:00 pm

$15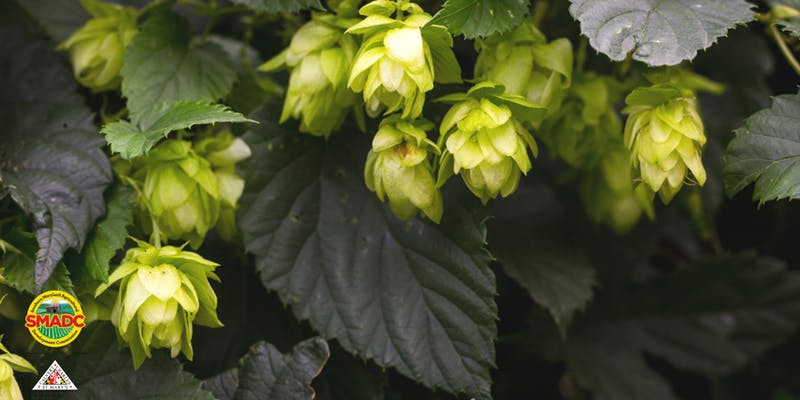 Get a closer look at hops production! Learn more about varieties, disease and insect management, harvesting, trellis systems, on-farm brewing and much more. The first stop is the experimental research hopyard at UMD-WMREC, where you will see 24 hop varieties under intensive management. After lunch on the farm, head over to Milkhouse Brewery at Still Point Farm for a look at a commercial brewery and hopyard in action.
Date: Wednesday, July 17th, 2019
Time: 8:00 AM to 6:00 PM (See schedule below)
**Please note**: We will be meeting in Charlotte Hall and taking a charter bus up to Keedysville and Mt. Airy. If you'd prefer to drive on your own, please let us know at info@smadc.com or 301-274-1922 ex. 1.
Tentative Agenda
8:00 AM – Bus pick-up at Charlotte Hall Shopping Center Park & Ride (behind SunTrust and Burger King)
29946 Three Notch Road, Charlotte Hall, MD 20622
10:30 AM – Arrive at Western MD Research and Education Center (WMREC)
18330 Keedysville Road, Keedysville, MD 21756
Tour research hopyard with Bryan Butler, Extension Agent
12:00 PM – BBQ Lunch at WMREC
12:30 PM – Depart for Milkhouse Brewery at Stillpoint Farm
1:30 PM – Arrive at Milkhouse Brewery
8253 Dollyhyde Road, Mt. Airy, MD 21771
Tour hopyard with Tom Barse, Owner of Stillpoint Farm
Beer Sampling + Networking
3:30 PM – Depart Milkhouse Brewery
6:00 PM – Arrive at Charlotte Hall Shopping Center Park & Ride
Farm Tour Description:
Western Maryland Research and Education Center (UMD-WMREC) – In an effort to support the new and rapidly growing brewing industry in Maryland, 24 varieties of hops have been established at the University of Maryland Agricultural Experiment Station in Keedysville, MD. Although not the first hops planting on a research farm, this planting is about ½ acre and contains 24 varieties replicated three times. It is being managed intensively with regard to fertility and irrigation, as well as insect, disease and weed management using integrated pest management (IPM) principles.
Milkhouse Brewery at Stillpoint Farm – Join Tom Barse at Milkhouse Brewery at Stillpoint Farm. Established in 2013, the on-farm brewery features a 1 acre hopyard with Cascade and Chinook hops. The farm specializes in classic styles of beer "improved with Maryland hops". The brewery produces 5 year round beers and rotates a couple of seasonal releases. In August of 2015 a new series, "Stillpoint Reserve" was launched. These beers focus on locally sourced ingredients, including hops, grains, fruits, herbs, honey, and other Maryland agricultural products.
---
This is the third of four Advanced Small Fruit workshops scheduled for 2019. The last is tentatively scheduled for October (Advanced Marketing).
If you are in any doubt about the status of the workshop due to inclement weather, please call the SMADC hotline at 301-274-1922 ext. 1, then press *832 to hear a message. Or check our Facebook page.
If you have any further questions, please contact SMADC Staff at info@smadc.com or call 301-274-1922 ext. 1.